CONVENTION REGISTRATION
***PLEASE NOTE THAT APRIL 15 IS THE CUT-OFF DATE TO REGISTER AND RECEIVE THE SOUVENIRS WITH YOUR REGISTRATION.***
IT IS NOT TOO LATE TO REGISTER FOR THE CONVENTION AFTER THAT DATE, HOWEVER YOU WILL NOT RECEIVE THE SOUVENIRS IF YOU REGISTER AFTER APRIL 15. YOUR REGISTRATION FEE STILL INCLUDES FOOD, BEER, SODAS AND WATER AT THE CONVENTION.
WHAT: Annual gathering of ALL Ravens Roosts as we have a great time and paint Ocean City purple!
WHEN: Thursday, June 1 through Sunday, June 4, 2017
WHERE: Ocean City, Maryland
Convention 2017 Registration Form is below
HOTEL RESERVATIONS: We have a block of rooms reserved in order to get discounted group room rates.
Hotel details were emailed to all members. For Hotel Information, please email
IF YOU HAVE ANY CONVENTION QUESTIONS, PLEASE EMAIL
Convention Shirts are NOT being sold online. Details on the Convention shirts were previously emailed to all members by Jo Ann.
Please email your shirt order to JO ANN CAVANAUGH
If you would like to help with the Convention Parade Float, please email:
______________________________________________________________________________________
Click on the Registration Form below to download a copy.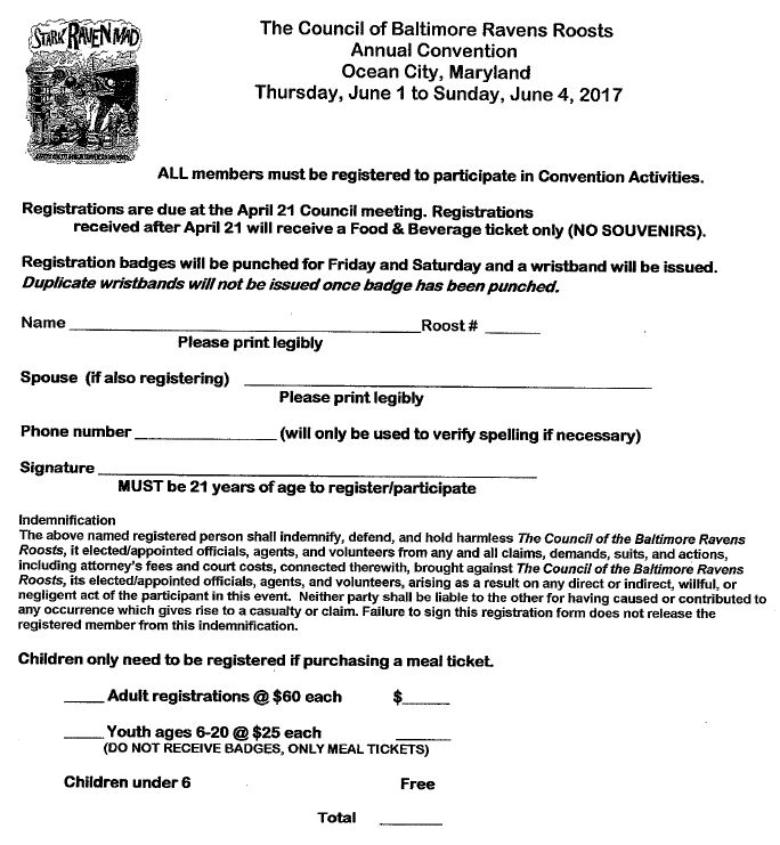 TO REGISTER FOR THE CONVENTION ONLINE, PLEASE PRINT A COPY OF THE REGISTRATION FORM. COMPLETE AND SIGN THE REGISTRATION FORM. YOU MAY PAY ONLINE.
THEN FAX YOUR FORM TO TAMMY BROOKS AT 443-289-8770
OR EMAIL YOUR REGISTRATION FORM TO:


ONLINE CONVENTION REGISTRATION PAYMENTS
Make your check payable to Ravens Roost #115.
Mail Payment made out to Ravens Roost 115 and Registration Form to:
Ravens Roost #115
PO Box 2011
Westminster, MD 21158
OR
Pay online and Fax Registration Form to: 1-443-289-8770
OR
Pay online and email Registration Form to: Tammy Brooks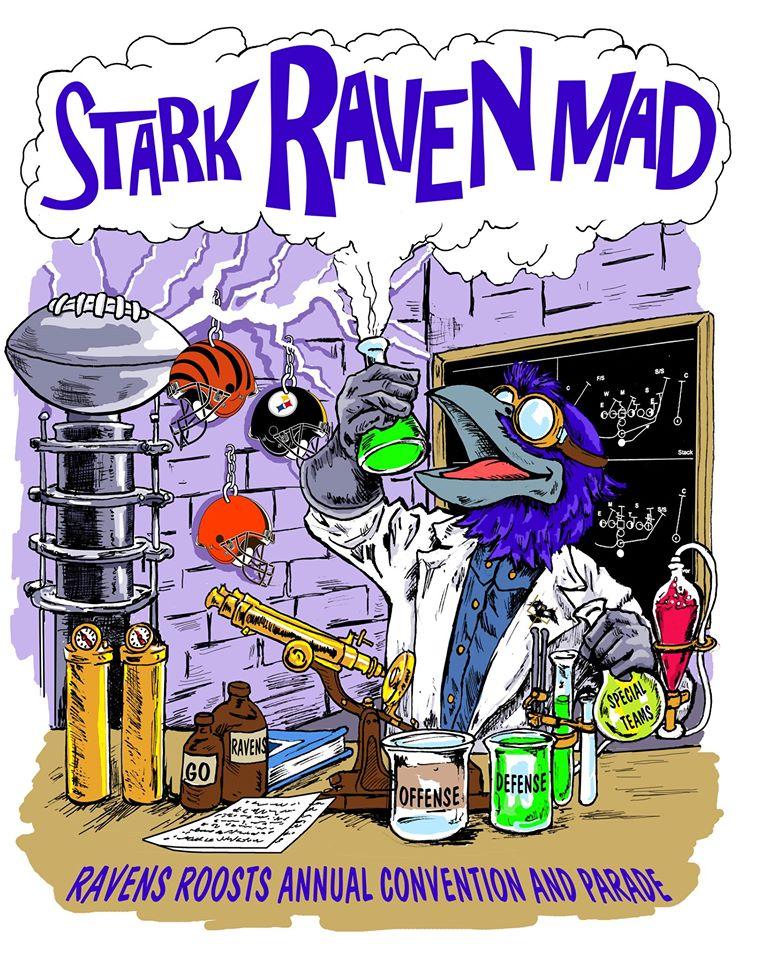 Below are some videos from past Conventions. Enjoy!
Nestor from WNST.net surveys the Ocean City purple madness
Sergio Kindle tries on Billick's Super Bowl Ring in Ocean City
From the 2013 Ravens Roosts Annual Convention
Ravens Roost Convention at the Castle in the Sand
Ravens players soak up the sun in Ocean City
Ravens Maniacs invade Ocean City for Roost parade
Ravens Cheerleaders at the 2011 Ravens Roosts Annual Convention
Edwin Mulitalo returns to Ocean City for the Annual Convention