CRAB FEAST FUNDRAISER
Hosted by Ravens Roost 115, Westminster
When: Saturday, October 19, 2019, 6 to 10 PM
Where: Westminster VFW, 519 Poole Rd, Westminster
Tickets: $50 per person included steamed crabs, dinner buffet, beer and non-alcoholic beverages
Venue: Beer included, Cash Bar available, DJ Music, after dinner dancing, Money Wheel, Raffles and Door Prizes. Minors permitted with parent in attendance. Guests under 21 years may not have alcohol. Proceeds benefit local charities of Ravens Roost 115.
Menu: AUCE Crabs Steamed on site by Harris Seafood; corn on the cob, Maryland crab soup, Fried Chicken, Hot Dogs, Beef Barbeque, Macaroni Salad, Potato Salad, Baked Beans, Vegetable Tray, Cheese Tray, Draft Beer, Soda, Iced Tea and Lemonade.
To purchase tickets scroll down to bottom. For info call:
Steve 443-253-0592 or Scott 443-841-9972
-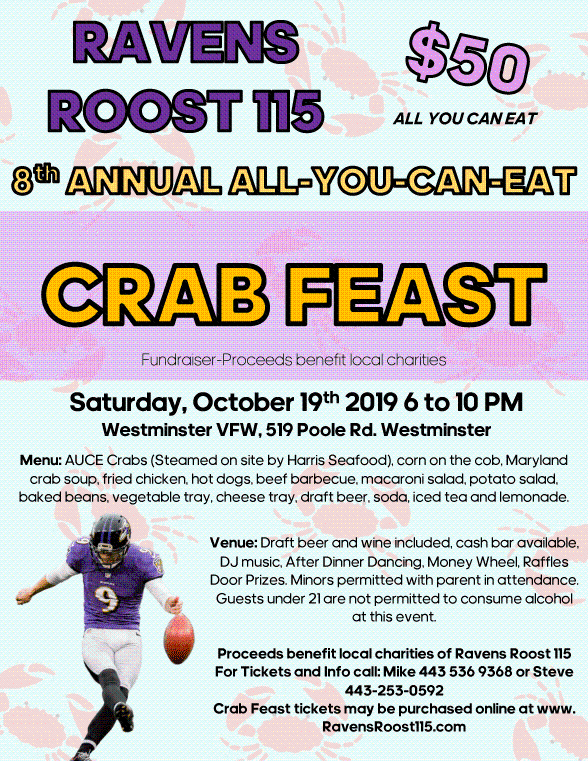 Tickets may be purchased by mail, in person or online below.
Please mail check or money order payable to:
Ravens Roost 115
PO Box 2011
Westminster, MD 21158
Seating: If you have other guests that you would like to be seated with, it is highly recommended that one person purchases a full table which is 8 tickets and completes the Seating Request Form by clicking the link below.
If you are purchasing tickets separately yet have others you would like to be seated with, we request that someone in your party please complete the Seating Request form by clicking here:
If you have any questions, please contact Janet 410-245-1679 or Steve 443-253-0592
Instructions for buying multiple tickets online


1 - Select Crab Feast Ticket from the drop down window


2 - Select what to do with your tickets

(

mail to you, hold at door or give to a certain person)


3 - Fill in your name


4 - Put the name the table is under or who we should give your tickets to hold


5 - Press the "Buy Now" button.

When the payment screen opens up, simply modify the number of tickets you wish to purchase! That's it! Thank you for your purchase.




Please note, our credit card payments are processed by PayPal, however you do NOT need a PayPal account to purchase them online.
CRAB FEAST EMAIL LIST
TO BE ADDED TO THE CRAB FEAST EMAIL LIST, PLEASE COMPLETE THE FORM BELOW.
Add me to the Crab Feast Email List: