Ravens Game Tickets
Buy and Sell here!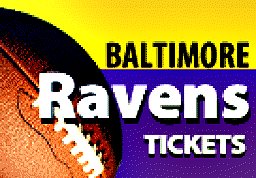 Click "View Replies" to see all posts.
Note - If you are not seeing any postings, there is nothing wrong with your PC or the website. In order to keep this page "user-friendly", messages will be removed after the date of the game has passed.
Disclaimer: Ravens Roost 115 is not involved in any transaction and does not handle payments, guarantee transactions, provide escrow services or offer "buyer protection" or "seller certification." This service is purely a courtesy of Ravens Roost 115 to help link buyers and sellers of Ravens game day tickets.
Tips: It is recommended that you deal locally with folks you can meet in person to avoid any potential scam attempts. Never wire funds via Western Union, Moneygram or other wire service. Beware of fake cashier checks and money orders. Never give out financial information including bank account number, social security number, your eBay or PayPal information.
Suggestion: If you sell your tickets or locate tickets for sale, it is recommended that you post a follow-up message so that you do not continue to receive emails from interested parties. Good luck!